Expressing Apology – Kita tidak bisa menghindari kesalahan. Kami belajar beberapa hal dari kesalahan kami. Tapi, ketika Anda membuat kesalahan dan menyakiti orang lain, pastikan Anda menyesal dan belajar darinya. Cara yang baik untuk menghadapinya adalah dengan meminta maaf kepada orang tersebut.
Expressing of apology adalah ekspresi penyesalan yang menunjukkan perasaan menyesal karena menyebabkan beberapa masalah pada orang lain. Jadi, ketika Anda melakukan kesalahan pada seseorang, lebih baik meminta maaf. Berikut adalah beberapa ungkapan permintaan maaf dalam Bahasa Inggris yang dapat Anda gunakan untuk meminta maaf kepada seseorang.
Dalam pembelajaran Bahasa Inggris Kurikulum 2013, materi expressing apology ini masuk kedalam materi Bahasa inggris kelas 7 SMP.
Example of Expressing Apology
Berikut ini adalah beberapa ungkapan permintaan maaf dalam Bahasa Inggris yang paling sering digunakan.
Sorry
I'm really sorry
Please forgive me
I beg your pardon
Please accept my apology
Contoh kalimat apologizing
"Sorry, I cannot come to your house this afternoon."
"I broke your ruler, I'm really/ very sorry."
"I spilled water to your book, please forgive me."
"I beg your pardon, ma'am. I have not finished my homework."
"Please accept my apology. I did not do it in purpose."
Responding Apology
Untuk membalas pernyataan maaf seseorang dalam Bahasa inggris, Anda dapat menggunakan beberapa ungkapan berikut ini.
"It's OK."
"It's alright."
"Never mind."
"No problem."
"Forget about it."
"Don't apologize."
"It doesn't matter."
"Don't think about it."
"Don't worry about it."
Contoh dialog apologizing
Ketika Anda ingin meminta maaf, pikirkan situasinya. Anda dapat menggunakan bentuk permintaan maaf formal dan informal berdasarkan situasinya. Misalnya, baca dialog di bawah ini dan perhatikan penggunaan expressing apology didalamnya.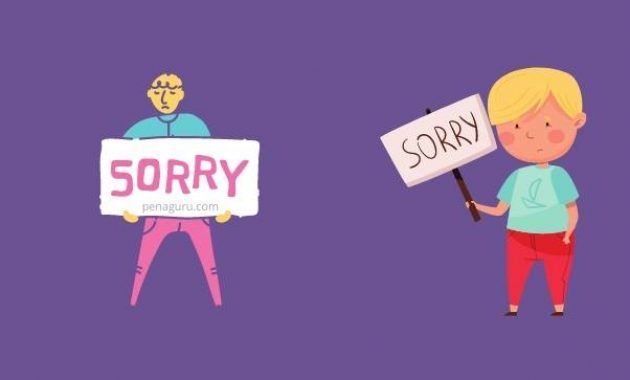 Conversation 1
(Situation: Budi borrowed Rani's book last week. He forgets to bring it today.)
Rani: "Hello, Budi. Good morning."
Budi: "Good morning, Rani. How are you feeling today?"
Rani: "I'm fine. How about you?"
Budi: "I'm good."
Rani: "Do you bring my book today? I need it."
Budi: "Oh, my! I really forget to bring it. I'm sorry."
Rani: "Are you sure?"
Budi: "Yeah, it is not in my bag."
Rani: "Make sure you bring it tomorrow."
Budi: "Okay. Again, I'm really sorry."
Conversation 2
(Situation: Mutia has just broken Tegar's glasses.)
Tegar: "What have you done with my glasses?"
Mutia: "Tegar, I am terribly sorry for breaking your glasses."
Conversation 3
(Situation: Putri is angry because Jason hasn't come yet. She's trying to call him)
Putri: "Hey, where are you? I have been waiting for you for two hours."
Jason: "Please forgive me for making you wait me for so long. I am on my way."
Conversation 4
(Situation: Rusdi says sorry because he couldn't come to Gempi's party)
Gempi: "Rusdi, why did not come to my party last night?"
Rusdi: "I'd like to apologize for not coming to your party. My father didn't let me go out."
Conversation 4
Alan: "Rahma, I am sorry I didn't tell you that I borrowed your book."
Rahma: "Don't worry about it."
Alan: "But I lost it."
Rahma: "What?"
Alan: "That was all my fault, but I've just bought a new one for you. Here you are."
Rahma: "That's very kind of you."
Alan: "Once again I am terribly sorry for losing it."
Rahma: "It's all right. At least you bought me a new one."
Kesimpulan
Expressing apology adalah cara untuk meminta maaf dan menyesali kesalahan Anda. Poin penting yang harus Anda pahami bahwa ungkapan permintaan maaf:
digunakan ketika Anda melakukan kesalahan, merasa menyesal dan ingin meminta maaf;
harus ditanggapi oleh orang yang Anda minta maaf, apakah akan diterima atau ditolak olehnya.
Nah demikian penjelasan singkat mengenai expressing of apologizing beserta responnya yang dapat kami bagikan. Semoga bermanfaat buat semua pembaca.
Jangan lupa untuk mengikuti Penaguru.Com melalui aplikasi Google News dengan cara Following untuk mendapatkan update artikel terbaru kami.